5 HEALTHY FOOD SUPPLEMENTS FOR HEART CARE

: 5 Essential Food Supplements for Heart Health: Elevate Your Well-being with Vestige
In our fast-paced lives, it's vital to prioritize our heart health. The heart serves as the engine that keeps our bodies running smoothly, and taking care of it should be a top priority. Alongside a balanced diet and an active lifestyle, incorporating healthy food supplements can significantly contribute to maintaining a strong and healthy heart. In collaboration with Vestige, a renowned provider of high-quality health products, we present you with five exceptional cardiac care supplements that can support your heart's well-being.
Prioritize Your Heart's Health Today
Your heart deserves the utmost care and attention. Alongside a heart-healthy lifestyle, integrating these five food supplements from Vestige can provide remarkable support for your cardiovascular well-being. From the natural goodness of Flaxseed Oil and the Ayurvedic wisdom of Pro card to the vitality of L-Arginine, Coenzyme Q10, and Krill Oil, Vestige offers a comprehensive range of products to elevate your heart health.
Invest in your heart's well-being today and embark on a journey of vitality and longevity. Choose Vestige's cardiac care supplements and let them be your partners in cultivating a healthier heart and a happier life.
The dedication of Vestige to delivering high-quality health products ensures that you receive the best possible supplements for your heart care needs. By incorporating these supplements into your daily routine, you can take proactive steps towards a healthier heart and a more vibrant life.
Make a commitment to prioritize your heart's health today.
Choose Vestige's cardiac care supplements and embark on a journey towards a stronger, healthier heart. With the power of these five remarkable supplements, you can take control of your cardiovascular well-being and pave the way for a brighter and more fulfilling future.
5 HEALTHY FOOD SUPPLEMENTS FOR HEART CARE BY VESTIGE MARKETING PVT LTD.
Health Care with Vestige- 5 CARDIAC CARE HEALTHY FOOD SUPPLEMENTS BY VESTIGE, (1) FLAX SEED OIL  What is Flaxseed Oil?  Benefits of Vestige Flaxseed Oil. (2) Pro card, What is Ayurveda? Benefits of Pro card. (3) L-ARGININE, What is L-Arginine?  Benefits of Vestige L-Arginine. (4) COENZYME Q 10. What is Coenzyme Q 10?  The benefit of Vestige Coenzyme Q 10 . (5) VESTIGE KRILL OIL.
1. Flaxseed Oil: Harness the Power of Nature
Flaxseed oil, derived from the flax plant, is a true gem when it comes to heart health. Rich in omega-3 fatty acids, it possesses remarkable cardiovascular benefits. Vestige Flaxseed Oil is carefully crafted to ensure optimum purity and potency. By incorporating this supplement into your routine, you can enhance your heart's health and reduce the risk of cardiovascular issues. From promoting healthy cholesterol levels to supporting overall cardiovascular function, Vestige Flaxseed Oil is a natural choice for your heart's well-being.
It contains Omega-6 and Omega-9 essential fatty acids, vitamins, potassium, lecithin, magnesium, fiber, protein, zinc and also provides approximately 50% more Omega-3 fatty acids than fish oil.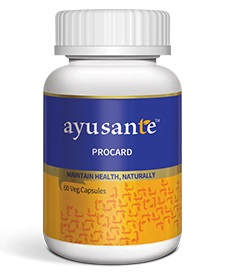 2. Pro card: Embrace the Wisdom of Ayurveda
Ayurveda, the ancient Indian system of medicine, offers profound insights into holistic well-being. Vestige Pro card, inspired by Ayurvedic principles, is a unique blend of potent herbs and natural ingredients. This remarkable supplement supports cardiac function by maintaining healthy blood pressure levels and promoting proper circulation. With its synergistic blend of herbs, Vestige Pro card is a testament to the power of nature in nurturing your heart's health.
What is Ayurveda?
Maintain Health, Naturally!
Ayurveda is a science of life– In Sanskrit, Ayur means life, Veda means science or knowledge
It has been practiced for over 5,000 years; It provides a holistic approach to health designed to help people live long, healthy, and well-balanced lives
Ayusante is already paving the way into people's lives and bringing health and wellness, with a holistic approach. One out of every four Indians between the age–group of 20–29 years have high cholesterol which is making they-get more and more prone to heart and liver diseases
         We are the distributor of Vestige products.
https://www.myvestige.com/product/ayurveda/ayurveda
How does a Heart Attack Happen?
BEST HEART CARE PRODUCTS OF VESTIGE.
3. L-Arginine: Fuel Your Heart's Vitality
L-Arginine, an amino acid found naturally in the body, plays a crucial role in cardiovascular health. Vestige L-Arginine harnesses the potential of this amino acid to support optimal heart function. By promoting the production of nitric oxide, L-Arginine helps relax blood vessels and improve blood flow, resulting in a healthier heart. Incorporating Vestige L-Arginine into your daily routine can contribute to overall cardiovascular well-being and vitality.
What is L-Arginine?
A revolutionary product that offers great taste, multiple health benefits, and powerful support for the cardiovascular system.
L-arginine is an amino acid; It is not produced in the body and is obtained from the diet
Necessary for the body to make proteins
Improves cardiovascular health.
Dosage: One sachet per day
How does a Heart Attack Happen?
BEST HEART CARE PRODUCTS OF VESTIGE.
4. Coenzyme Q10: Energize Your Heart
Coenzyme Q10, also known as CoQ10, is a vital compound that supports cellular energy production. As a powerful antioxidant, it protects the heart from oxidative stress and contributes to cardiovascular health. Vestige Coenzyme Q10 ensures your heart receives the necessary energy supply to function optimally. By taking this supplement, you can enhance your heart's vitality and promote long-term cardiovascular well-being.
What is Coenzyme Q 10? 
Co-enzyme Q 10 is an oil-soluble vitamin-like substance.
It is found in every cell of the body The cells use it to produce energy & to do various cellular functions It is essential for 90% of cellular energy production. Numerous studies show that Co-Q 10 is beneficial for the heart, heart rhythm, cellular health and boost the immune system
Coenzyme Q 10 helps to improve heart muscle function in congestive heart failure patients.
Dosage: One or two capsules daily after meals
Each capsule contains Coenzyme Q 10 / 100 mg
5. Vestige Krill Oil: Unlock the Ocean's Treasures
Krill oil, derived from tiny marine crustaceans, is a rich source of omega-3 fatty acids and antioxidants. Vestige Krill Oil offers all the benefits of these essential nutrients in a convenient supplement form. Omega-3 fatty acids support healthy cholesterol levels, promote proper blood clotting, and maintain overall cardiovascular health. With Vestige Krill Oil, you can harness the remarkable power of the ocean to nourish your heart and optimize your well-being.
VESTIGE KRILL OIL-Antarctic Krill, which is the source of Krill Oil, is comprised of three major components; omega-3 fatty acids, primarily EPA and D.H.An attached to Phosphate-lipids.
Net Content: 30 soft gel caps
Dosage: 2 to 3 capsules per day, after meals
Invest in your heart's health with Vestige, and experience the transformative benefits of these exceptional food supplements. Elevate your well-being, embrace a heart-healthy lifestyle, and let Vestige be your trusted companion on your journey to optimal heart care. Start taking care of your heart today, and reap the rewards of a healthier, happier life tomorrow.
Remember, while these supplements are designed to support your cardiovascular health, they should be used in conjunction with a well-balanced diet and regular exercise. It's always advisable to consult with your healthcare professional before starting any new supplement regimen, especially if you have pre-existing health conditions or are taking medication.
BOOK SUMMARY OF "CHANGE YOUR HABITS, CHANGE YOUR LIFE"
इष्टतम (आदर्श) स्वास्थ्य के लिए स्वस्थ-रासायनिक-क्रिया की सम्पूर्ण जानकारी: भाग 1/2 (Healthy Chemistry for Optimal Health)
अपने नेटवर्क मार्केटिंग व्यवसाय को सही तरीके से कैसे शुरू करें?