STAY POSITIVE
STAY POSITIVE. Hello, Good day to all of you. Work to do as a daily routine, First of all, Use Mask, Clean Hand with soap, and water regularly, maintain Social distance, Stay Positive, and Stay at Home.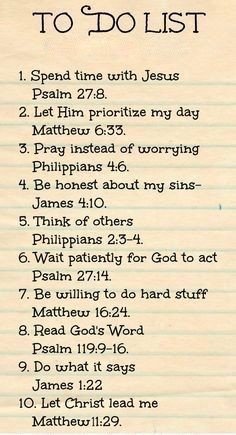 To do list:
1. Spend Time with Jesus-Psalms 27:8
 My heart hath said to thee: My face hath sought thee:

thy face, O Lord, will I still seek. 

Psalms 27:8
2. Let Him Prioritize My Day-Matthew 6:33
Seek ye therefore first the kingdom of God, and his justice,

Matthew 6:33
3. Pray Instead of Worrying- Philippians 4:4
Rejoice in the Lord always;

again, I say, rejoice. 

Philippians 4:4
4. Be Honest about My Sins-James 4:10
 Be humbled in the sight of the Lord,

and he will exalt you.

James 4:10
5. Think of Others-Philippians 2:3-4
Let nothing be done through contention,

neither by vain glory: but in humility,

let each esteem others better than themselves: 

Philippians 2:3

Each one not considering the things that are his own, 

but those that are other men's. 

Philippians 2:4
6. Wait Patiently for God to ACT-Psalms 27:14
Expect the Lord, do manfully,

and let thy heart take courage, and wait for thou for the Lord.

Psalms 27:14
7. Be Willing to do the hard stuff- Matthew 16:24
Then Jesus said to his disciples: If any man will come after me,

let him deny himself, and take up his cross, and follow me. Matthew 16:24
8. Read God's Word-Psalms 119:9-16
 By what doth a young man correct his way? by observing thy words. 

Psalms 119:9

 With my whole heart have I sought after thee:

let me not stray from thy commandments. 

Psalms 119:10

 Thy words have I hidden in my heart, that I may not sin against thee. 

Psalms 119:11

 Blessed art thou, O Lord: teach me thy justifications. 

Psalms 119:12

 With my lips, I have pronounced all the judgments of thy mouth. 

Psalms 119:13

 I have been delighted in the way of thy testimonies,

as in all riches. 

Psalms 119:14

 I will meditate on thy commandments: and I will consider thy ways. Psalms 119:15
And I will think of thy justifications: I will not forget thy words.  Psalms 119:16
9. Do What it Says-James 1:22
  But be ye doers of the word, and not hearers only,

deceiving your own selves. 

James 1:22
10. Let Christ Lead Me-Matthew 11:29
 Jesus said: Take up my yoke upon you,

and learn of me, because I am meek,

and humble of heart:

you shall find rest to your souls. 

Matthew 11:29
Mental Behavior
Change your mental attitude, and the world around you will change accordingly,
And your world will become whatever you choose to make of it.
You may reach great heights of success, or you may settle for a miserable life that is devoid of hope.
You have to choose
When you choose a positive demeanor, you set in motion an unstoppable force,
that will allow you to have a fulfilling career,
the love of your family and friends, good physical, and mental health, and all the other true wealth of life.
To change your world, you have to change it from the inside out.
You must start with yourself.
When you choose the co that positively puts your life,
you will change your life for the better,
and you will also positively impact the people you come into contact with.
Everything is Not Lock-Down
Sunrise is not locked down,

Love is not locked down. 

Family time is not locked down,

Kindness is not locked down.

Creativity is not locked down,

Learning is not locked down.

The conversation is not locked down,

Imagining is not locked down.

Reading is not locked down,

Relationship is not locked down.

Praying is not locked down,

Meditation is not locked down.

Hope is not locked down, 

Cherish what you have..!
 I have lifted my eyes to the mountains, from whence help shall come to me. Psalms 121:1
My help is from the Lord, who made heaven and earth. Psalms 121:2
 May he not suffer thy foot to be moved:
neither let him slumber that keepeth thee. Psalms 121:3
Behold he shall neither slumber nor sleep, that keepeth Israel. Psalms 121:4
The Lord is thy keeper, the Lord is thy protection upon thy right hand. Psalms 121:5
The sun shall not burn thee by day: nor the moon by night. Psalms 121:6
The Lord keepeth thee from all evil: may the Lord keep thy soul. Psalms 121:7
May the Lord keep thy going in and thy going out; from henceforth now and forever. Psalms 121:8
52 Positive and Healthy Habits For an Amazing Life